Obituary: Jim Haley, 60
James P Haley, 60, of Wrangell, Alaska, passed away on Sept. 1, 2018 at Providence Hospital in Anchorage. He was born on July 22, 1958 in Pasadena, California, to the late Bernard and Marie Haley.
Jim graduated from Verdugo Hills High School, located in the Tujunga community of Los Angeles, in 1977. He was a self-employed contractor, but he came to Wrangell to visit his brother Jerry, and fell in love with Alaska. He worked at the Wrangell Saw Mill until it closed in 1992 and recently retired from Evergreen Elementary School, where he was a custodian for over 22 years.
Jim's favorite thing was to go fishing. He invited all of his family and friends to Alaska, for the experience of a lifetime.
Jim is survived by his significant other of 26 years, Sandy Churchill, and three children: Lacey (Luke), Justin (Nicole), and Joel. He also has three grandchildren: Gavin, Syler, and Finley.
Jim is the youngest of a large family from California: Bill (Susan), Barney (Gail), sisters Lucanne (Fred), twins Laura and Patti (Corey), Mary (LeRoy), Nancy (Boomer), Rose (Dennis), and the late Jerry Haley. He also leaves behind many nieces, nephews, and friends.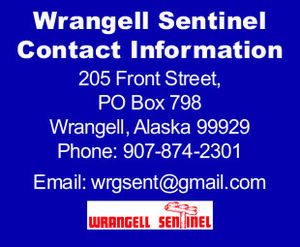 A Celebration of Life will be held on Sept. 15, 2018 at 1:00 p.m. at the Elks Lodge, which he was a member of for 30 years. Please wear his favorite color green, or a tie-dye shirt. Following will be a quick interment service at the Crematorium Wall, officiated by Pastor Nettie Covalt. A taco bar will be open and the teachers of Wrangell School District and the Alaska Native Sisterhood Camp #1 will provide a coffee hour.