Obituary: David Leroy Cummings, 73
Dave Leroy Cummings, 73 passed away at home with his family on Oct. 16, 2020. Dave had inoperable/untreatable cancer.
Born in Tacoma, Washington on Sept. 8, 1947, he was the second child of Albert Vern and Vera joining 5-year old brother Albert (Vern) Jr. He graduated from high school in Auburn, Washington in 1965 and was in the National Guard from 1966-1972.
He and Vern Jr. grew up exploring the woods, river streams, ocean shores and many lakes of the Pacific NW and SE Alaska fishing and hunting. The brothers were inseparable.
He was a talented tradesman and diversified and operated a feed store in Enumclaw. Washington.
He moved to Wrangell in 1978 and moved away in 1992. He was involved with numerous special projects for the City, including building the new Public Safety Building. He ran the local hardware store for Eric Ottesen for a time. He was a skilled carpenter/concrete worker. They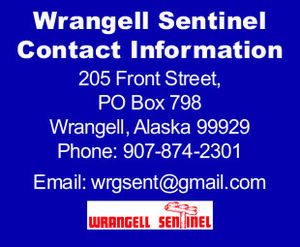 purchased the Marine Bar, remodeling the interior, installing pizza ovens and creating the Hungry Beaver. He also owned and operated a pizza parlor in Leavenworth, Washington.
He captained a dredge-plotting vessel for the US Army Corps of Engineers,
surveying and plotting the West Coast, Pearl
Harbor and international ports. After 20 years of service, he retired in 2014. He married Diana, the love of his life in 2013. He purchased lots, building homes and sold them. His canned tuna was the best. Dave never slowed down; he was on the water, or building/fixing something in the shop. The couple loved to vacation in the travel trailer. He designed "Rattle Flash" trolling flashers and sold them to tackle shops along the Oregon coast. Dave took drone movies and published on You Tube.
His parents preceded Dave in death: Vera Oct. 5, 1991 and Albert Feb. 7, 2008.
He is survived by: his wife Diana; daughter Channon (Ty) Chadwick; brother Vern (Nancy) Cummings; nephew V. Alan (Leslie) Cummings, Mark (Yenell) Cummings; and granddaughter Jasalen Hodgen.
A memorial will be Nov. 7 at Reedsport Church of God. He will be laid to rest at Sunset Cemetery. Cards and letters can be sent to Diana Cummings PO Box 495 Lakeside, OR 97449