Obituary: Harriet Ann Bangs, 63
Harriet Ann Bangs
Harriet Ann Bangs age 63, left this earth surrounded by family and friends on Saturday, January 18, 2020 at Swedish Hospital in Seattle, Washington.
She was born March 23, 1956 in Sitka, Alaska. She joined elder siblings Becky, Ty, Ricky and Donna. The minute her parents brought her home to Wrangell her siblings adored her! Harriet brought joy and much laughter to the family. She was the baby of the family and spoiled for eight years until her three younger siblings, Wilma, Heidi and David were born. Then she became an elder sister who wasn't afraid to keep the three younger Stokes children in line!
Harriet grew up in Wrangell and attended school making lifelong friends. She graduated Wrangell High School in 1975, walking out to the Elton John tune of "Goodbye Yellow Brick Road". She loved reminiscing about the "Good Ole Days" growing up in Wrangell and hanging out with her friends. As teenagers, they loved cruising the logging roads on the island and listening to music. Harriet's favorite music was anything by Elton John and Maggie May by Rod Stewart. She and her friends enjoyed campfires on the beach and running the river. She loved road trips with Tammy. One of her favorite vacations they took was a road trip from Alaska to Florida to visit Ty and Jim Crockett, Harriet's sister and brother-in-law. The shenanigans that this dynamic duo got into during this trip remains unknown.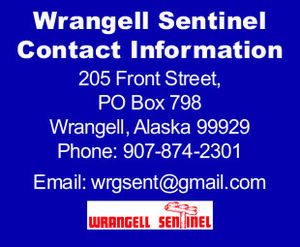 After high school graduation, she attended Western Business School with her friend Rynda in Portland Oregon. Upon completing school, she returned to Wrangell and began working for Benjamin's Grocery Store, formally Bob's I.G.A. now Wrangell's I.G.A. Harriet was excellent at keeping secrets and shocked everyone when she gave birth to a bouncing baby boy, her son Geoffrey, by herself, at home on March 31, 1988. Family members remember getting early morning phone calls on April first announcing Geoffrey's birth. "Ha, ha, Happy April Fool's Day to you too!" was the most common response Harriet got from her family and friends when she told them that she just had a baby.
While working at Bob's IGA, Harriet met an annoying guy with red hair. At least, that is the way she described meeting the love of her life and future husband, Mike Bangs. Eventually, Mike managed to win her heart, red hair and all! The couple were married on April 10, 1999 at the Harbor Light Assembly of God Church. Harriet was walked down the aisle by her father, Dick Stokes, surrounded by family and friends. Her small family of two grew to a family of four. It was like the "Brady Bunch" with Mike's son Travis joining the family too! Harriet was a wonderful mother and wife. She was excellent at juggling family and work while still participating in a very large, extended, "sometimes all up in your business" family. Sister "group texts" would drive her crazy! If you got one sister going, they all would chime in and she would have to listen to random "text beeps" all day long!
In 2007, Harriet and Mike moved from Wrangell and made their new home in Burien, Washington where Mike was born and raised. This move gave the couple the opportunity to travel to Westport, Washington were Geoffrey was working. Mike, Harriet and Bella (their dog) would rent a cottage by the harbor so they could see the boat that Geoffrey was working on enter and leave the harbor. Another favorite pass time was visiting nearby casinos. Harriet was very lucky and would often out play Mike winning over and over again!
Her family was blessed again by adding a daughter-in-law, Caroline, to the family. Harriet, Mike, Geoffrey and extended family attended a beautiful wedding in Hawaii. A state Harriet loved to visit! A couple years later, her family welcomed another member, a beautiful and feisty granddaughter named Remi Lou.
While living in Washington, Harriet worked at Safeway. She received notable recognition for her work ethic and excellent performance. She retired in September of 2018. In retirement, Harriet still woke up early and kept a spotless house. She enjoyed quiet walks with her beloved dog Bella early in the morning at Seahurst Beach near her house.
Harriet lit up any room with her presence. She was a vibrant person, always eager to help out. She never complained and never turned anyone away. Harriet lived a very fulfilled life as an independent woman, caring wife, loving mother, aunt and dear friend. She enjoyed spending time with her family and friends. Harriet will be missed by all who had the pleasure and joy of knowing her. She is survived by her husband, Mike Bangs, her sons Geoffrey Stokes and Travis Bangs, her daughter-in-law Caroline, her granddaughter Remi Lou Bangs, her mother Wilma Stokes, her sisters Becky Koenig, Loretta Crockett, Donna McKay, Wilma Leslie, Heidi Armstrong and their respective family members (many, many beloved nieces, nephews, great nieces, great nephews and brother-in-law's) her cousins Auggie and Lester Schultz, dear friends (that were like family) Tammy McCay, Rynda Hayes, Elsie (Hansen) Bailey & their respective family members, as well as many more cousins, aunts, uncles and dear friends. She was preceded in death by her father, Dick Stokes, brothers Rick Stokes and David Stokes, cousins Julie Cogan, Debra Clark, John Schultz and her aunt Loretta Schultz.
Her Celebration of Life service that was scheduled for this past spring has been postponed.