Stough resigns from Assembly, TBPC
File Photo
James Stough resigned from both the Thomas Bay Power Commission (TBPC) and the borough assembly Friday.
TBPC secretary Dave Galla resigned the same day. The resignations came a day after a Petersburg meeting called at the request of a majority of the commissioners. Commissioners voted to contact Stough by phone and letter concerning his absence at both the June 12 Petersburg meeting and a meeting held June 5 in Wrangell.
Stough last ran unopposed to Assembly Seat C in 2012, receiving 468 votes. His term was scheduled to expire in 2015, according to the borough website. The letter of resignation must be approved by the borough assembly at the June 24 regular assembly meeting, with a likely assembly-appointed replacement to be made on July 22.
Travel between his house on Farm Island and Wrangell Island posed too much difficulty, Stough wrote in his resignation letter.
"It is of to (sic) much burden and personal expense to me and my family to serve my community and to live at farm (sic) Island on the Stickine (sic) River," the letter reads in part. "I would like to thank all those that voted for me and those that supported me in the performance of my duties."
Stough had served as the president of the Commission since his election in January, shortly after he was appointed to replace outgoing commissioner Warren Edgeley. His tenure as the TBPC president was marked most prominently by an April cease-and-decist letter sent to the chairman of the Southeast Alaska Power Agency (SEAPA), and by disagreements with other assembly members over the role the commission and the assembly should play in negotiating a SEAPA takeover.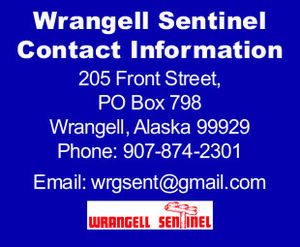 Galla declined the opportunity for comment Tuesday. Stough did not respond to phone calls or emails.
Petersburg commissioner John Jensen said the resignation was shocking.
"He (Stough) hasn't made very many meetings," he said.
An organizational meeting was scheduled for June 27, and a new president would likely be elected at that date, Jensen said.
The resignations also come amid negotiations between borough managers from Wrangell and Petersburg and SEAPA CEO Trey Acteson over the fate of the Tyee Lake hydroelectric plant.