Obituary: Minnie Evangeline (Larsen) Kalkins, 88
Minnie Evangeline (Larsen) Kalkins, 88
Minnie Evangeline (Larsen) Kalkins, Yéil Tláa (raven mother), 88. a lifelong resident of Wrangell, Alaska, and member of the Tlingit Shtax'héen Kwáan (Stikine River People) walked into the forest peacefully surrounded by her children on September 7, 2020.
Minnie was born in Wrangell on November 20, 1933, to Emma (Shakes) Larsen and Svere Larsen. Following her matrilineal heritage, she represented the Kaach.ádi (Raven Frog Clan), hailed from Kaalch'al aan, and was the granddaughter of Chief George Shakes VI, Gushtlien II, and Minnie (Snook) Shakes. She was a lifelong member of the Tlingit and Haida Indian Tribes of Alaska, Sealaska Corporation, and Wrangell's American Legion Auxiliary, Legion Unit #6.
Minnie graduated with the class of 1952 from Sheldon Jackson School in Sitka, Alaska, and studied during the year of 1953 at Whitworth Christian University in Spokane, Washington. She married the love of her life, Edward Earl Kalkins II, on January 28, 1955, and they raised nine children in Wrangell. Minnie was a homemaker, worked housekeeping for the Stikine Inn, and worked as the Wrangell American Legion Auxiliary Bingo Manager. She also was a past member of the Alaska Native Sisterhood and a member of the Wrangell Cooperative Association.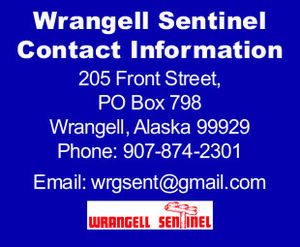 She had a contagious laugh, sharp wit, and legendary Scrabble skills. She was an expert harvester of berries and Alaskan fisherwoman. She enjoyed swimming off the island of Wrangell, riding the Alaska Marine Highway, sight-seeing on car rides, going on long walks, playing Bingo, and spending time with all of her family.
Minnie was preceded in death by: her mother and father; brothers Marcus and George Larsen; first cousin Nellie (Gunderson) Torgramson; aunt Betty Wigg; mother-in-law Elsie (Quock Kalkins) Kilborn; father-in-law Edward Kalkins I; and husband Edward Kalkins II.
She is survived by: son Edward Kalkins III and wife Janice; daughter Rose Johnson and partner Mike, daughter Emma Stickel and husband James, daughter Elsie Lindley and husband Jody, daughter Darlene Villegas and husband Arnie, daughter Lillian Smith, daughter Trixie Bennett, daughter Minnie Bandera and husband Eric; son Randy Kalkins; grandchildren Honey Kalkins, Amanda Kalkins, Michelle Amundson and husband Lewis, Allie Stickel and partner Craig, Jessica Whitaker and husband Brandon, Shannon Lindley and partner Daniel, Britany Lindley and partner Aaron, Joshua Gordineer and partner Mandy, Veronica Smith, Bianca Smith, Briana Smith, Ali Ginter and husband Chet, Shane Bennett, Jessica Albertsen and husband Paris, Anthony Cox, Jamie Cox, Brandon Riley, Stone Riley, Erika Riley and partner Jacob; and great grandchildren Jace Amundson, Kasey Whitaker, Ethan Whitaker, Shelton Eklund, Bradley Eklund, Kennedy Eklund, Brayden Beasley, Axl Smith, Maddisen Ginter, Gibson Girt, and Elias Ginter.