Obituary: Robert H. Grant, Jr., 83
Robert H. Grant, Jr., 83, a retired teacher, and longtime resident of Wrangell, died on October 21, 2020 in Wrangell, Alaska.
He was born on April 19, 1937 to Robert and Catherine Grant in Dubuque, Iowa. He graduated from Loras College with a teaching degree and immediately, in 1963, moved to Wrangell to pursue his dream of teaching in Alaska. He taught High School History/Social Studies and English and later, at the end of his teaching career, he taught 6th Grade.
He also worked for the Alaska Fish and Game Department during the summer months counting sockeye up the Tahltan River in Canada, a job that he enjoyed because he got to experience more of the northern territory, and he was able to work outside. He commercially trolled during the summer for many years up and down the Southeast Coast. He retired from teaching in 1986 to enjoy more time hunting, sport fishing, gardening, and volunteering at the Elks Lodge.
During his lifetime he gave back to his community by serving on the Wrangell City Council and devoted many hours to the local Elks Lodge where he served as Treasurer and was a driving member to raise money for the Lodge.
He was an avid gardener and had a large garden up the Stikine River at his cabin and was happiest when he could share his crop with his friends. He also enjoyed taking his boat out around the Island especially during the Fishing Derby and would buy raffle tickets from anyone that tried to sell him one.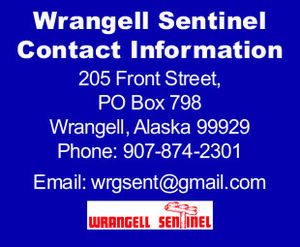 He was the founder of the Close-Up program in the Wrangell High School and was paramount in picking scholarship applicants for the Elks every year.
Bob had a special place in his heart for dogs of all breeds but especially black labs. Any dog that he owned lived a royal life and he always had a treat for any dog he met.
He took pride in teaching Tiffany Merritt the secrets to his recipes and telling her all his life stories. He loved being a mentor in her life.
"Uncle Bob" is survived by his sister, Nancy Ellerman (Wayne) and many nieces and nephews as well as many in Wrangell who held him close to their hearts.
Due to the pandemic, a memorial will be held later.