Classified ads
HELP WANTED
Johnson's Building Supply is hiring for a yardman/customer service position. Responsibilities include retail sales, computer knowledge, receiving freight, stocking inventory, truck loading/unloading, deliveries and friendly customer service. Work schedule is Tuesday-Saturday. Must have a valid Alaska driver's license, forklift experience is beneficial (will train), some heavy lifting, prior construction knowledge is favorable, pay DOE. Pick up an application at Johnson's Building Supply.
HELP WANTED
Wrangell Senior Center, Southeast Senior Services, a division of Catholic Community Service, is currently recruiting for a driver/assistant cook at $17/hour, 25 hours a week. Must be 21 years of age. Apply online at http://www.ccsak.org/jobs. For more information contact Solvay Gillen at 907-874-2066.
LAND FOR SALE
Two Stikine River properties on west side of Farm Island in King Slough: 200-foot frontage, 6-plus acres, $80,000; 8-acre backlot, lots of good access, $60,000. Can access the main river at any stage of tide. Willing to finance. Call 907-518-0101.
PROPERTY FOR SALE
825 Lemieux St., city lot with 3-story building that needs substantial repairs, work to clean up and finish. Best offer. Call or text 907-821-1339.
FREE ADS
Do you have something to sell? Having a garage sale? Looking to buy something? Classified ads for individuals and community groups are free in the Sentinel. Contact Amber at 907-874-2301 or email wrgsent@gmail.com.
STAY UP TO DATE
Get a Wrangell Sentinel subscription today and enjoy the convenience of having the paper delivered to your mailbox each week. Subscribers also can enjoy free online access. Call Amber at 907-874-2301 or subscribe online at wrangellsentinel.com.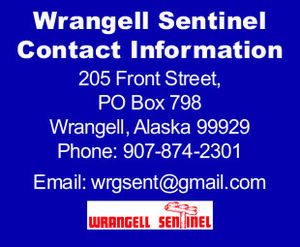 FREE
Moving? Need fire starter? Art projects? Stop by the Wrangell Sentinel to pick up free recycled newspapers.